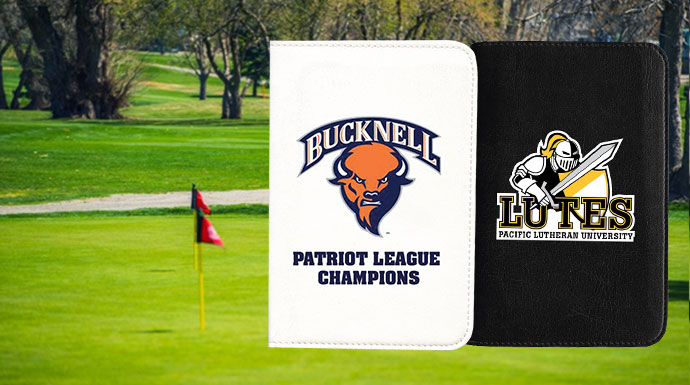 PGA Tour Winner Endorsed!
Used by teams in ALL three championships....NCAA, NAIA and NJCAA.
Colleges and Universities
Charity and Alumni Tournaments
High Schools
Golf Schools and Junior Camps
Corporate Events
Donation "Thank You" Gift
"The scorecard holder with the STAT-TRACKER pad and Rules Hard Card is a great idea!. Every junior, high school and college player looking to improve would benefit using one. This is a " must have" product especially for inclement weather. Keeps the scorecard nice and dry. A great product at even a better price."

Mike "Radar" Reid
PGA and Champions Tour Winner

"I have been looking for a high quality and affordable scorecard holder for the past two years. These are exactly what I was looking for! The golf stat pad is really valuable. The service was great and the turnaround time in getting to me exceeded my expectations."

Billy Aune
Men's and Women's Coach
Northwestern College

"Our team thought the scorecard holders were in their words "the greatest." Players from other schools were asking where we got them. My daughter plays in college and said they were nicer than the ones she has. The service was great and easy to deal with your company. Very pleased with everything."

John Ehrensbeck
Varsity Golf Coach
Town of Webb School

"The scorecard holder with the stat tracker pad is a great idea and every player looking to improve should have one. Excellent service. Keeps the card dry during bad weather. Would highly recommend it! Very functional."

Kevin Jamieson
Women's Golf Coach
Bucknell University

"I just received the holders and was quite impressed with the both the quality of the holder and the engraving of our logo on the front. Got them a lot quicker than expected. Guys at MGM are real easy to deal with and I would recommend any coach looking for team holders to check them out!"

Dan Wesley
Men's Golf Coach
University of Rochester
Schools Using This Product:
Logo with Team, School, or Club Name!
Made of a soft and durable European PU leather-like material available in Black or White
Repels water and stains.....keeps scorecard dry from rain and sweat due to heat.
IN USE BY OVER 2,000 COLLEGE AND HIGH SCHOOL TEAMS, GOLF RESORTS AND ACADEMIES NATIONWIDE!
Conveniently fits in rear pants pocket or bag. Holder when closed - 4 1/2" W x 6 1/2" H. Plenty of room for your player's marking pen ( not included ). Placement of pen is for illustration purposes only.
Comes with (2) storage compartments. One for the scorecard and one to log stats such as greens in regulation, putts, fairways hit and much more. Stat-Tracker pad included as well as a USGA Hard Card with the TOP 10 competition rules identified for you (completely waterproof).
NO SET-UP CHARGE WHEN PROPER ARTWORK SUPPLIED.
Shipped in 5-7 business days after artwork approval.
FREE SHIPPING
Minimum of (6) holders plain or engraved. (12) in full color.
EPS, CDR or JPEG files for logos are recommended with a minimum of 300 dots per inch resolution
Original EPS required for Engraved Scorecard Holders